Welcome to a series of articles explaining the essence of our game's startup roles! In addition to the basics of startup life, you'll learn about what we have in store for the upcoming pilot. Today we'd like to give you a brief overview of the startupper role.


It's all about ideas…Or is it?

Startupper is a startup creator, in other words – founder or co-founder of a startup. Now, let's deconstruct this exhaustive definition into three images to see what makes one fit this role.



Let's also briefly set out some of the responsibilities a startupper takes:
- Creating a scalable startup idea through market research, customer development, and business intuition
- Assembling a founding team
- Recruiting and training the best talent
- Writing a business plan
- Fund-raising: networking, searching for partners, pitching the project to investors
- Marketing and managing social media
- Managing finances
- Selling the product

If you're already freaked out – exhale, it's really not as bad as it looks. Once your business is set, and you have enough money to hire a comprehensive team of specialists, you'll no longer have to carry out all of your duties alone. Though at first, when your startup is but a mockup in your brain, you will have no choice but to handle all of this by yourself. If you want to become a great founder, this article may be of interest to you.

Our next pilot could be a great solution for all of those who want to develop their confidence in the startup field and acquire essential skills for creating one. As promised, here's a look at some of the gameplay of our serious fun RPG.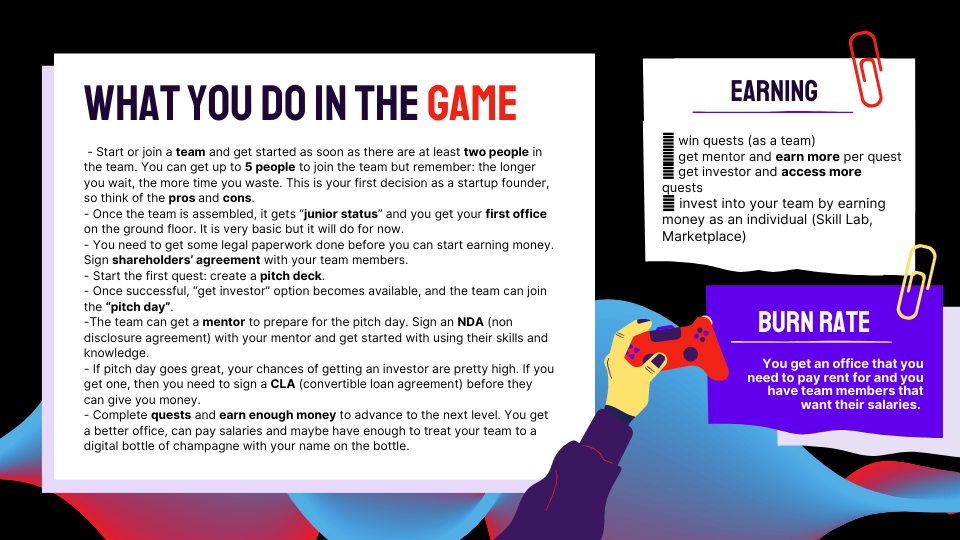 To summarize, a startupper is a leader who has a scalable business idea and a broad set of skills that help that idea thrive. Does this sound like someone you'd like to become one day? Or do you already fit that description?

Apply for the official launch of Fe/male Switch startup game to unlock your hidden traits and explore your startup potential! Don't want to wait and want to start learning now? Join our Startup School to get access to the most practical startup building knowledge!

Until next time!