The last representative of the "startup trinity" in our game is the investor. Previously we've talked about the roles of the startupper and mentor.

An investor is a person that provides money in return for equity in a startup. Let's see what makes a good investor and how to think like one.



In order to find the startup that is worth investing in, investors go through a rigorous process of selection that usually starts with pitchdecks, short presentations that founders design to showcase their business plan. It's often said that a healthy relationship between the investor and the startup founders is vital, so finding the right investment opportunity goes beyond just a sound business case.

The role of the investor is much broader than just providing capital. The range of their responsibilities include:

- Assisting startups with business plan validation.
- Ensuring that invested capital is used in a proper way.
- Creating goodwill of the company in the market.
- Helping in earning maximum profit with least damages and losses.

In addition to smart risk-taking, being a startup investor implies having advanced financial skills and a deep understanding of the tech market. Fortunately, you can acquire all of these competencies during our upcoming pilot. Now, let's take a look at the startup investor gameplay.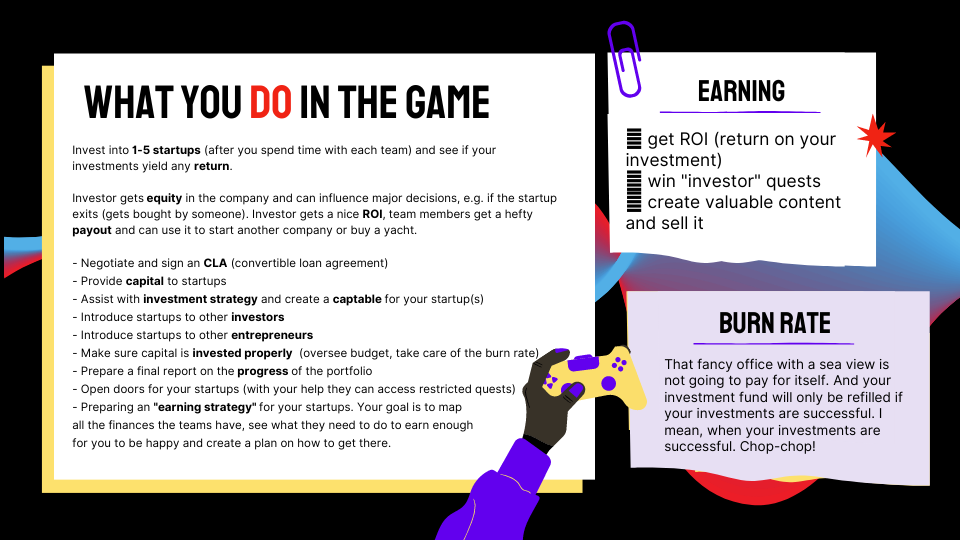 To summarize, an investor is a person who provides capital to start and maintain a business and helps founders maximize profits with the least amount of damage and loss.

Apply for the official launch of Fe/male Switch startup game to unlock your hidden traits and explore your startup potential! Don't want to wait and ready to start learning now? Join our Startup School to get access to the most practical startup building knowledge!

See ya very soon!