To say that the creator economy is booming would be an understatement – it's at an all-time high. The number of different platforms for selling digital art is growing exponentially, making it easier for everyone to monetize their creations.

Digital artists put a lot of work into creating new assets and NFTs for video games, the metaverse, and it goes without saying that their copyrights must be protected.

However, platforms fail to ensure creators' intellectual property rights.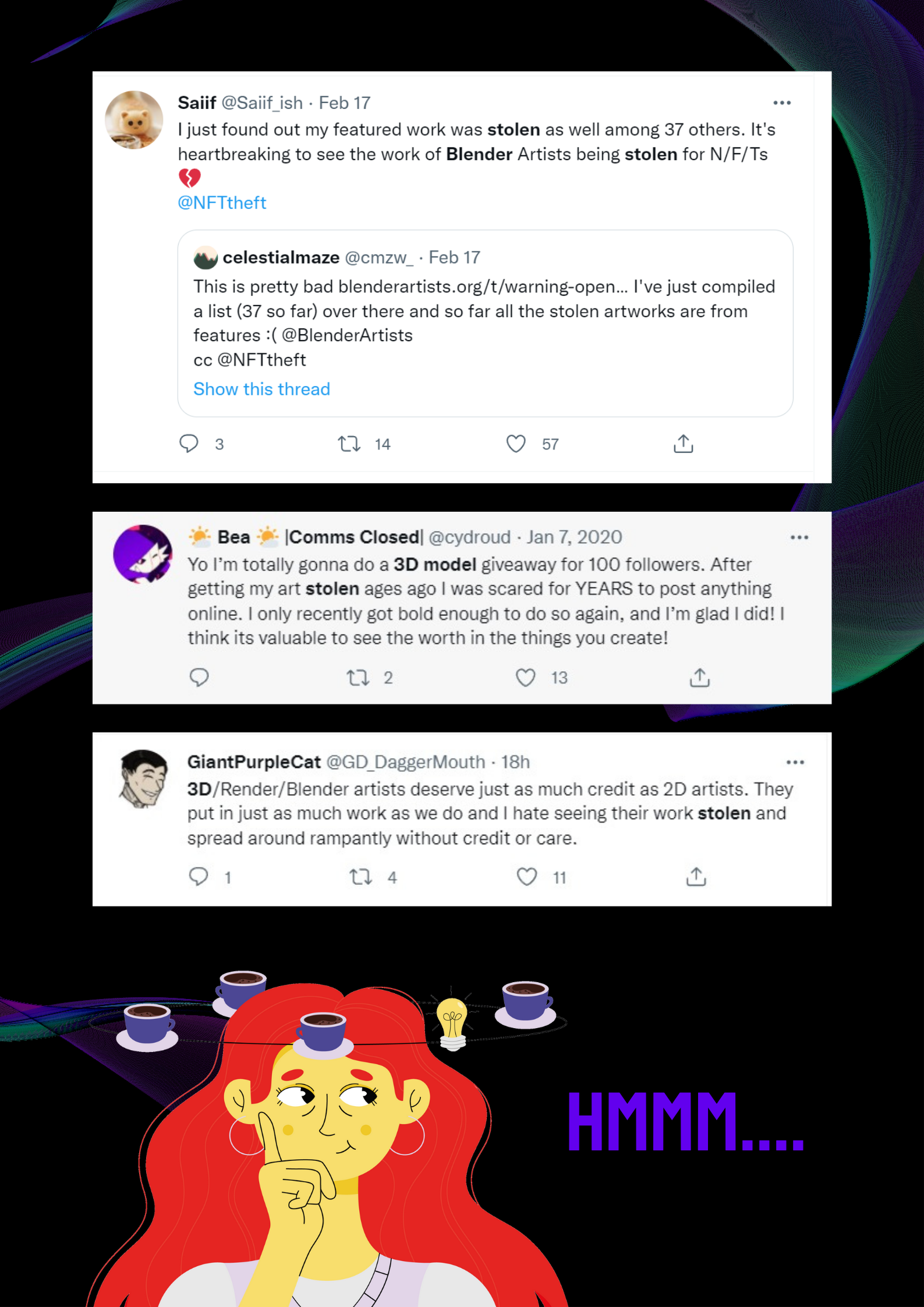 How can creators protect their art from being stolen and sold by other people?

Ultimately, it's virtually impossible – it's just data. Once your digital assets are online or shared with someone, you have no control over how they will be used. They may be copied and multiplied very easily, and there's practically no way to prevent that.

To tackle this issue, we developed BlendedBoris, a plugin for Blender that registers 3D models on blockchain and ensures your copyright over digital files that you create.

BORIS— Blockchain Ownership Registration Is Simple. The plugin provides creators with a fast and effective way to assure and secure Intellectual Property rights for their designs.

According to the law, the creators are the owners of their works until someone else claims a prior right on it. In case of dispute, it is crucial to provide proof of ownership, i.e., which version of the work came first.

Creators can register the existence of their 3D models on blockchain and get trustful digital evidence of their authorship for free.

This is extremely important because BlendedBoris ensures "first in time" registration for any intellectual asset, which automatically ensures 'first in right' to IP.

By the way, BlendedBoris is a free and easy-to-use plugin for Blender! It is our gift to support the creator community. Read more at the official website.


What are the benefits users get with BlendedBoris?

Creators can claim their ownership. They can register copyright for every 3D model they create right within Blender.

Creators can distribute their creations while keeping their IP protected, as well as share .blend files as they normally do.

Creators can grow their brand and get their art ready for web3 before everyone else does.

How does it work?

BlendedBoris is a free plugin for Blender. It creates a digital twin of your model and stores data immutably on blockchain.

Is it an add-on or a platform?

BlendedBoris is installed on top of the Blender software and consists of a plugin and data management interface.

The plugin handles user identification and authentication of the files and creates a digital fingerprint of your 3D model that unites the model's object ID and the owner ID and serves as the proof of creation and ownership.

Is the registered copyright data secured?

The registered data about the creators and their creations is stored securely and immutably on the blockchain.

How to register copyright for digital art?

When using the plugin, user authentication and all the registration logs go via a private wallet.
The user gets their private key when starting the plugin. Any transaction is viable only when signed with a unique key.

How to keep track of all registered art?

The asset management interface allows you to manage data about all your registered models.

How can creators prove ownership of their art?

The management interface enables you to print shareable lifetime ownership certificates for each art.

You can place the links to shareable certificates on your portfolio so other parties can verify your ownership.

What will the creators get?


Ownership certificate
Creators will register the existence of their designs on the blockchain and will be able to prove authorship or ownership with a lifetime Verifiable Blockchain Certificate.
The Blockchain Certificate is shareable and verifiable, like a web link or downloadable PDF, so the creators can share it with other parties to prove their ownership over digital assets.

The users will get several types of certificates:

The web certificate & the shareable PDF certificate


The public version certificate & the private 'owner' version certificate
About CADChain

CADChain is a legal tech startup established in 2018 in the Netherlands and developing innovative blockchain solutions to help organizations protect, monetize, and manage their IP globally.

Core team



Why are we unique?

Gender balanced team

The startup is led by a female CEO and co-founder and has a 50% female team who are professionals in STEM.

Sustainable blockchain

The startup uses a sustainable blockchain protocol unlike Bitcoin and the like.

Non-profit project

CADChain has already launched a social impact initiative Fe/male Switch, a non-profit program supporting females in STEM.

GDPR compliance

Blockchain has proven to be suitable for tracking data assets; we go a step further by building GDPR compliance right into our solutions

Get in touch

If you would like to get in touch with CADChain, please do so by sending us an email.

Come over for coffee and cake!

Follow us on LinkedIn & Twitter

Get a 3D Avatar!

By the way, during the game, our users will get a 3D avatar created in Blender! Apply for the official launch of our startup game so you don't miss out!

See ya!